Our Mission
Our Mission
We are a Youth and whanau support agency based at Grace Vineyard Beach Campus in New Brighton. We have worked for over 30 years on the East of Christchurch, running a wide variety of programmes, clubs, groups, events and various supports for hundreds of people each week.  A small staff team, is supported by an army of volunteers who want to make their community a better place!
Mission: Building Bright Futures with Young People in East Christchurch.
We currently do this through 10 key areas:
Weekly Clubs Our weekly after school and evening clubs including: Boys Club (Years 1 – 6), Girls Club (Years 1 – 6), Kitchen Klub (Years 6-9), Craft Club (Years 6 – 9), Rock Solid (Years 7 – 8), Surge (Years 9 – 13), Basketball (Years 3 – 6)
School Programmes Supporting the students in class, on lunchtimes, and through extra curricula activities at Rawhiti Primary School & Shirley Boys High School
Holiday Programmes These run for three different age categories, Years 1 – 4, 5 – 9 in the first week every school holidays. We also run Breakaway programmes for Years 7 – 13 in December and July holidays.
Camps We take youth on overnight and weekends away throughout the year, such as Easter Camp, Winter Camp, Famine Sleepover, AMPED Camp, Father Son Camps and Mother Daughter Days.
One on One.  We provide a counsellor in 3 of our local schools each week for more specialist support for children and employ a mentoring coordinator who matches mentees and mentors for relational support, goal setting and a lot of encouragement.
Mana Ake Wellbeing and mental health support workers in local primary schools, for children and whanau.
Community Events Large community events such as I Love New Brighton, School Fairs, EPIC Dance Parties & our Family Fun Night.
Parenting & Pre-school Programmes and partnerships such as our two Beach Tots Playgroups, Breast-feeding Drop In, Parenting Seminars, Babysitting Training for teens and Parenting Toolbox Courses.
Amplify Music School Musical instrument Lessons, Youth Bands and music recording in our purpose build music rooms and in schools.
Volunteer Training and Support We recruit, train and encourage volunteers to work in their community, on events, programmes and training events. We also host interns.
The 5 Ways of Wellbeing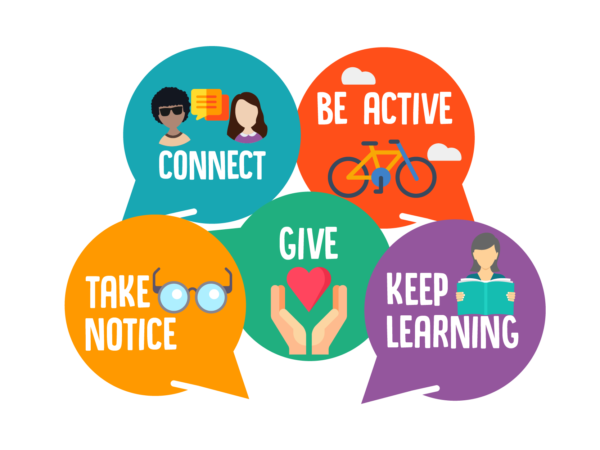 Youth Alive Trust believes in the '5 Ways of Wellbeing' and they fit into all our programmes!  Here are some examples how we're making a difference in the wellbeing of young people:
1. Connect, me whakawhanaunga. Connecting young people with adult role models/youth workers/mentors. Creating a place of belonging. Connecting to people different to you, and creating new friendships. Connecting to a larger organisation with other support networks and connections to specialist agencies.
2. Give, tukua. Volunteers and mentors giving of their time. Giving back to their communities through the youth programmes, community events and community service projects.
3. Take notice, me aro tonu. Self reflecting in mentoring sessions. Goal setting and celebrations once they've been achieved. Inspirational and spiritual talks that stimulate thoughts of who they are in their community and the wider world.  Teaching and modelling of values.
4. Keep learning, me ako tonu. Music lessons. Sports training. Skills training such as crafts, cooking, activities, camps and new experiences. Training nights for volunteers.
5. Be active, me kori tonu. Volunteers running and joining-in the physical activities on youth programmes, such as sports, games, ice skating, table tennis, basketball, etc. Mentees getting away from their screens and doing something active with their mentor, such as a walk, frisbee or kicking a ball.
Our Vision for the east of Christchurch is to provide 1) "Safe" places that children, young people and families are 2) "Supported Holistically" (socially, emotionally, mentally and spiritually) in a friendly and 3) "Fun" environment.  Programmes are led by enthusiastic and compassionate staff and volunteers who take every opportunity to build self esteem and try new activities through oodles of 4) "Encouragement".  We provide an exciting and vibrant community, whose values are built on the Christian 5) "Faith", that discriminates nobody and offers extra grace when often needed.  This 6) "Inclusive" attitude attracts people from a wide variety of circumstances, particularly those from low socio economic backgrounds, and those considered 'At-Risk' to themselves or others.  We recognise that we cannot do it alone, so we refer, 7) "Network" and collaborate with many agencies to provide the best possible support for the people we walk alongside.  We provide opportunities and training that encourages young people to serve others in various 8) "Leadership" capacities, that inspires a future of hope and makes both their and our world a better and brighter place!
Our History
Our History

In 1988, the leaders of New Brighton Baptist Church saw the need to serve the most vulnerable and needy members of their community.  They established "Youth Alive Trust" as a vehicle to serve the young people of the community through programmes, events and their staff and volunteers.  The original trust deed dated 27th September 1989 says that the purpose of the trust is to provide a "practical Christian service….in such a manner as to carry with it a good Christian testimony so that those served in any way will experience the worth and concern of Christian love" (quoted from the original trust deed).
Signed by Pastor Grant Brewster and the two other trustees, they employed Andrew Hill as their first community youth worker, who set-up and established the first Holiday Programmes and after school clubs.  Through different team leaders, interns and staff, the trust grew and diversified into many different areas.  Historic programmes included the Friday Night "Sandpit Drop-In", Genesis Girls Group, Sublime, B.A.S.E, Trinity Club, Champions Boys Club, 3:15 Club and the massive South, North & Central Holiday Programmes.  We've had hundreds of volunteers, staff and interns over our 25 years, including Trust Managers Ross Banbury (1995 – 2001), Doug McConnell (2001 – 2005) & James Ridpath (2005 to present).  Contact us if you're part of our Alumni and want to be kept upto date with what's going on.
In the aftermath of the February 2011 Christchurch Earthquakes, the profile and work of Youth Alive Trust grew even further.  They were involved in many post earthquakes programmes, activities and events, which eventually saw them honoured with an Earthquake Award from the Christchurch City Council.  It also kick-started plans for the renovation of the building they have been based at since 1991, into a more purpose built Youth & Community Centre.  The building work has led to even more programmes, and partnerships with other community organisations to offer wider support for the family.  Read about some of the long term impacts of our work through the Amber-Rose Story.
Values
Values
Safety
To provide a place where young people are safe and feel safe - on our programmes, in our building and with our leaders. Safe from bullying, safe from abuse, safe from gangs, safe from negative peer pressure, and safe to be themselves.
Holistic Support
Recognising and supporting all the key areas of growth needed in an individual - socially, emotionally, mentally and spiritually.
Fun
To provide programmes and activities that bring enjoyment, smiles and laughs to everyone involved - young people and volunteers. Laughter is a great medicine and we want to provide programmes that are appealing and create long lasting positive memories.
Encouragement
We provide oodles of positive affirmations, Hi-5's and big smiles that build self esteem and encouragement a 'have a go' attitude. 'Put-downs' and 'shaming' are not acceptable.
Inclusive
We do not discriminate against anyone from being a part of our programmes, whatever race, culture, religion, gender, or behavioural issue. Everyone starts with a clean slate and much grace is offered for those who slip.
Faith
Our values, code of conduct and morals are based on the Christian faith. These are modelled to young people and shared when appropriate. Matt 22 v 37-40 - Love God, Love your Neighbour.
Leadership
Encouraging young people to be positive influences in their home, school and community. We aim to build up new young leaders and feed them back into the programmes that they were once a part of or other community, school or government programmes.
Networking
We aim to integrate ourselves into community life, networking with other community groups, schools, the police and council. We believe we are stronger working together than alone.
Our Team (2019)
Our Team (2019)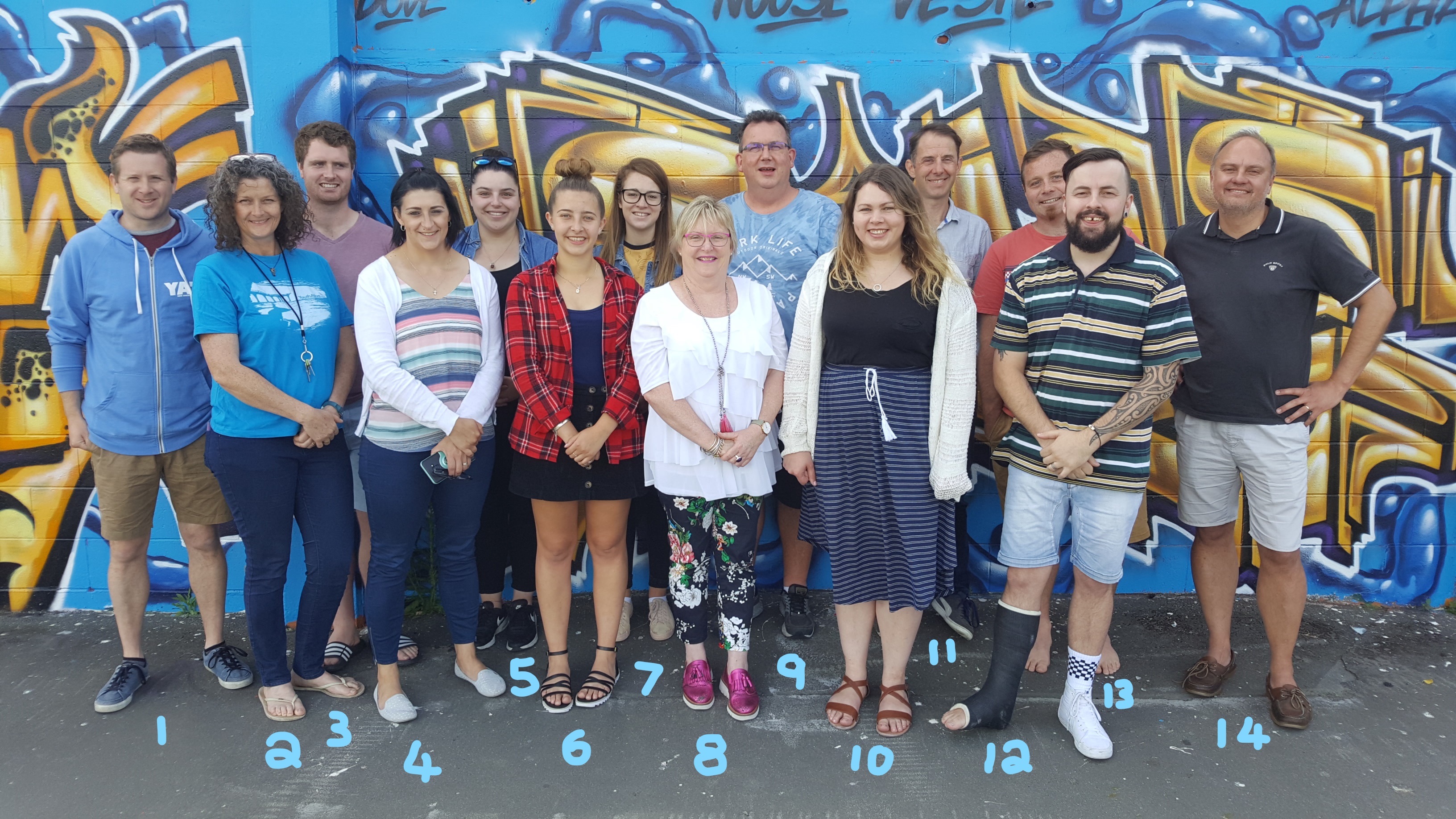 Our current employed staff are:
| | |
| --- | --- |
| James Ridpath (1) | Trust Manager (2004 - present) |
| David Du Preez (14) | Programmes & HR Manager (2018 - present) |
| Daniele Ferreira (4) | Administrator (2018 - 2019) |
| Josiah Dayo (unavailable for photo) | Amplify School of Music Coordinator (2014 - 2020) |
| Matt Barnes (13) | Primary Schools Youthworker (2012 - 2019) |
| Olivia Brown (5) | Oscar Coordinator & Youthworker (2017 - 2018) |
| Rodger Hewitt (3) | Youthworker (2017 - 2018) |
| Paddy Caffell (12) | Youthworker 2018-present |
| Melissa Moore (6) | Youthworker 2018-present |
| Teish Nicholson (2) | Beach Campus Partnership Coordinator (previously Administrator) |
| Joel Brittenden (11) | Mana Ake Team Leader |
| Stephen Dodge (9) | Youthworker |
| Sue Dickson (8) | Mana Ake (2018 - 2020) |
| Emma Christie (10) | Mana Ake (2018 - present) |
Our 2018 Teams are (* denotes Coordinator Positions):
Years 1-4 Holiday Programme
Stephen Dodge*, Josiah Dayo, Melissa Moore, Rodger Hewitt, Acea Holland, Aneisha Polglase, Connor Pittam, Izzy Major, Karisma Symons
Years 5-9 Holiday Programme
Olivia Brown*, Matt Barnes, Paddy Caffell, Teish Nicholson, Kegan Peterson, Owen Tempelton, Shannon Brennan, Skyla Mills
Breakaway Holiday Activities
Rodger Hewitt*, Matt Barnes, Stephen Dodge, James Ridpath, Josiah Dayo, Olivia Brown, Melissa Moore, Paddy Caffell
Primary Schools Youthworkers
Matt Barnes, Olivia Brown, Melissa Moore
Girls Clubs
Amber-Rose Te Huia*, Jade Harrison Best, Leanne Carter, Abbie Short, Aneisha Polglase, Jenna Hoban-Watson, Lilly Hoban-Watson, Makayla Te Haate, Meadow Bennett, Sarah Starr, Sykla Mill
Boys Club
Stephen Dodge*, Paddy Caffell, Acea Holland, Cole O'Reilly, Levi Gillian-Heaney, Henry Beeby-Zeier Kegan Peterson, Riley Harrison
Rock Solid
Matt Barnes*, Melissa Moore, Alan Hammersley, Alex Reddish, Finn Palmer, Henry Beeby-Zeier, James Ridpath, Jayden Wall, Jorja Tater, Olivia Brown, Shanay Te Haate, Steph Tapper
Surge
Rodger Hewitt*, Paddy Caffell, Bailey Whitnack, Chris Clemett, Eleanor Burghart, Emma Crichton, Henry Beeby-Zeier, Jayden Wall, Melissa Moore, Michelle Hammersley, Kate Hewitt, Stephen Dodge
Mana Ake
Joel Brittenden, Stephen Dodge, Emma Christie, Sue Dickson
Counsellors
Sandy Hitchens (contracted to schools), Gemma Phillips (casual)
Trustees
Andrew Hill, Deborah Swaney, James Renwick, Linda Hampton, Scott Pickering, Tony Walter
Newsletters
Newsletters
We send out newsletters periodically to report on what's been happening at the Trust and what our staff has been up to. If you would like to receive our newsletter, see the signup field at the bottom of the page.
View more

Networks

Networks

As a community organisation we value the support of a number of other agencies, partners and networks. These are our friends: