Join us in our New Gym for quality coaching, drills and game time in NZ's most played sport!
Latest Updates
6 Jun 2019
Great to be a part of the official Opening of the re-vamped Thomson Park today. This is something Youth Alive Trust has lobbied council on for years & its another great asset for our local community. Thanks to our local Community Board & Councillors for making it happen!
https://m.facebook.com/story.php?story_fbid=10211980831949842&id=1644170123
27 May 2019
There is no Basketball Coaching for the next two weeks:
Wed 29th May is Strike Day – we will be running an all day OSCAR Day for those who need childcare
Wed 5th June is the Re-opening of Thomson Park, with the new Basketball Court, free sausages, prizes, a game led by our Basketball coach Matt and the Rawhiti school team and a chance to meet RAMS and Wildcats players!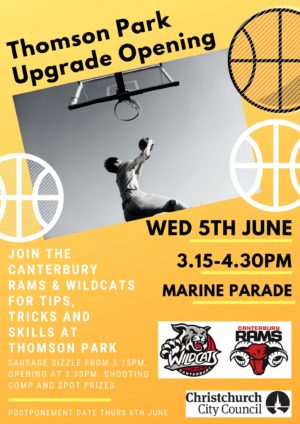 29 May 2019
WEDNESDAY afternoons has spaces for our Basketball coaching session in Term 2.  Aimed at school years 3 – 5. Learn skills, drills and make friends. All abilities welcome. First session for free – just turn up! See the brochure link for more details or sign up for the term by clicking register online.